'); } var S; S=topJS(); SLoad(S); //-->
---
Elephants
Reading Level

| | | |
| --- | --- | --- |
| | edHelper's suggested reading level: | grades 4 to 7 |
| | Flesch-Kincaid grade level: | 6.51 |

Vocabulary

| | | | |
| --- | --- | --- | --- |
| | challenging words: | | braches, multi-functional, despite, mild-tempered, molars, extension, lifetime, starvation, species, shift, rate, height, pounds, drape, length, dies |
| | content words: | | Male African, Male Asian, Their African, Female Asian |
---
Print Elephants

Quickly Print

Proofreading Activity


---
| | | |
| --- | --- | --- |
| Elephants | | |
---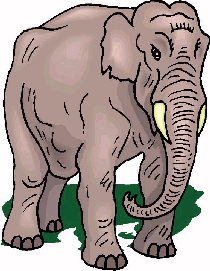 1 Elephants are the largest land animals. They are very smart, and they have two flat, large ears, a long trunk, and a pair of long, curved tusks. Despite their size, elephants are mild-tempered, friendly animals. They are also vegetarians. Living only in Asia and Africa, elephants can be seen on grasslands, in forests, deserts, and marshes.

2 How can we tell an Asian elephant from its African relative? There are many clues:
African elephants are the larger of the two species. Male African elephants can reach a height of 13 feet and a weight of 15,400 pounds. Male Asian elephants, on the other hand, stand 10 feet tall and weigh 5,100 pounds.
Asian elephants have smaller ears, averaging 2.5 feet long and 2 feet wide. African elephants have larger, broader ears that drape over their shoulders. African elephants' ears are on average 5 feet long and 4 feet wide.
Asian elephants have a round forehead that looks like a bulb. Their African relatives have a low, flat forehead.
Both sexes of African elephants have tusks. Female Asian elephants do not have tusks.
Asian elephants have five toes on the front and four on the back. African elephants have four toes on the front and three on the back.
Asian elephants have a rounded, humped back. African elephants have a straight, yet slightly swayed, back.
An African elephant's trunk ends in two "fingers" that are used for picking up small objects while an Asian elephant's trunk ends in just one.
Paragraphs 3 to 4:
For the complete story with questions: click here for printable
---
Weekly Reading Books
---
Feedback on Elephants


---
Animal Themes


---
Mammals


---
Grasslands



---
Animals



Copyright © 2018 edHelper