'); } var S; S=topJS(); SLoad(S); //-->
---

Sample Crustaceans Worksheet
Animal Worksheets
Return to Ocean Worksheets

edHelper.com Subscribers:
Build a printable worksheet with the complete story and puzzles
Build a proofreading activity
---
| | | |
| --- | --- | --- |
| Crustaceans | | |
---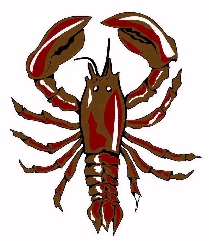 1 Crustaceans have several common features that insects (such as beetles and dragonflies) and arachnids (such as spiders and scorpions) also have. In fact, crustaceans, insects, and arachnids all belong to an animal group called arthropods. So, what are the similarities?
They do not have backbones. Animals without backbones are called invertebrates.
They wear "armor" - they have hard, outer skeletons covering their bodies to protect them from predators. These special shields are also known as exoskeletons.
They have jointed legs and segmented bodies.
2 Given these descriptions, can you guess which animals are crustaceans? Shrimps, crabs, lobsters, prawns, barnacles, and woodlice are all examples of crustaceans. Most crustaceans live in the sea or in fresh water. However, a few of them have adapted to live on land. For example, coconut crabs (or robber crabs) are land-dwelling animals - they come out of their hideouts on sandy beaches at night to look for food. They are famous for their ability to climb a coconut tree and cut off a ripe coconut with their sharp claws. Only female coconut crabs go to the sea, because they need to lay their eggs in the water. Even though coconut crabs can swim, they will drown if submerged in the water for too long.

Paragraphs 3 to 4:
For the complete story with questions: click here for printable


---
Weekly Reading Books
---
Feedback on Crustaceans


---
More Lessons



---
Animals



Copyright © 2018 edHelper