'); } var S; S=topJS(); SLoad(S); //-->
---
Ostriches
Reading Level

| | | |
| --- | --- | --- |
| | edHelper's suggested reading level: | grades 5 to 7 |
| | Flesch-Kincaid grade level: | 6.04 |

Vocabulary

| | | | |
| --- | --- | --- | --- |
| | challenging words: | | misconception, shortfall, hump-backed, leads, mainly, title, refuses, lowering, unwanted, record, height, neither, actually, such, cause, although |
---
Print Ostriches

Quickly Print

Proofreading Activity

Other Languages
Spanish: Las Avestruces


---
| | | |
| --- | --- | --- |
| Ostriches | | |
---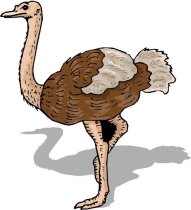 1 Ostriches deserve the title of the world's largest birds. They stand up to nine feet tall. They weigh more than 300 pounds. Aside from their impressive height and weight, ostriches are also the record holders in many other areas.
Although ostriches are birds, they cannot fly. Their wings are neither big enough nor strong enough to carry their heavy bodies. To make up for this shortfall, ostriches rely on their long, muscular legs to run away from danger. With a top speed of 50 miles per hour, ostriches can run faster than any other birds on Earth!
Ostriches have the biggest eyeballs of any bird. Each of their eyeballs is about 2 inches across!
Ostriches lay the world's largest egg. An ostrich egg is 7 inches long and 4.5 inches across, and it weighs more than 3 pounds. Did you know that one ostrich egg is equivalent to about 24 chicken eggs or 4,700 bee hummingbird eggs?
2 Native to Africa, ostriches like to travel in small groups across the grassland to search for food. They mainly feed on leaves, roots, flowers, and seeds. Sometimes, they eat small lizards and insects, too.

3 When we see a group of ostriches, we can easily tell which one is male and which one is female. Male ostriches wear black outfits with white feathers on their wings and tails. Female ostriches do not wear such pretty dresses - their feathers are dull, grayish brown.

Paragraphs 4 to 6:
For the complete story with questions: click here for printable


---
Weekly Reading Books
---
Feedback on Ostriches


---
Animal Themes


---
Birds


---
Grasslands


---
More Lessons



---
Animals



Copyright © 2018 edHelper