'); } var S; S=topJS(); SLoad(S); //-->
---
More Than Up and Down


Print More Than Up and Down Reading Comprehension with Second Grade Work

Print More Than Up and Down Reading Comprehension with Third Grade Work

Print More Than Up and Down Reading Comprehension



Reading Level

| | | |
| --- | --- | --- |
| | edHelper's suggested reading level: | grades 2 to 3 |
| | Flesch-Kincaid grade level: | 3.27 |

Vocabulary

| | | | |
| --- | --- | --- | --- |
| | challenging words: | | bandalore, incroyable, pottery, history, inventor, design, brake, rocket, outer, simple, factory, company, enter, space, metal, also |
| | content words: | | Duncan Yo-Yos, In Great Britain, In France, Pedro Flores, Duncan Yo-Yo |
---
More Than Up and Down
By Jody Williams
---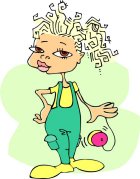 1
The oldest toy in history is the doll. What is the second oldest? It is the yo-yo. Duncan Yo-Yos are the most famous yo-yos. Most people think that D.F. Duncan invented the yo-yo. He didn't. Yo-yos have been around for 2,500 years. They began in Greece. Some were made of wood. Some were made of metal or pottery.
2
The yo-yo is called different things in other countries. In Great Britain it is called a bandalore. In France it is called an incroyable. The word yo-yo is from the Philippines. It means 'come back.' The yo-yo was used as a weapon there for over 400 years. The yo-yo came to the U.S. in 1860. It wasn't called a yo-yo. Americans called it a bandalore. It was used as a play thing. In the 1920s it was called a yo-yo.
3
Pedro Flores began making this toy. He made it in his small toy factory in California. He was from the Philippines. D.F. Duncan liked the toy. He bought the rights from Flores. He began making the toy. He gave it the name yo-yo.
Paragraphs 4 to 6:
For the complete story with questions: click here for printable
---
Weekly Reading Books
---
Feedback on More Than Up and Down


---
Inventors and Inventions


---
More Lessons


---
Social Studies





Copyright © 2017 edHelper