'); } var S; S=topJS(); SLoad(S); //-->
---
What Does a Geneticist Do?


Print What Does a Geneticist Do? Reading Comprehension with Fifth Grade Work

Print What Does a Geneticist Do? Reading Comprehension with Sixth Grade Work

Print What Does a Geneticist Do? Reading Comprehension




Reading Level

| | | |
| --- | --- | --- |
| | edHelper's suggested reading level: | grades 5 to 8 |
| | Flesch-Kincaid grade level: | 7.6 |

Vocabulary

| | | | |
| --- | --- | --- | --- |
| | challenging words: | | geneticist, geneticists, genome, nucleus, chromosome, counsel, cystic, fibrosis, sickle-cell, genetic, syndrome, organism, dystrophy, study, heredity, anemia |
| | content words: | | Gregor Mendel |

Other Languages
Spanish: ¿Qué hace un genetista?


---
What Does a Geneticist Do?
By Cindy Grigg
---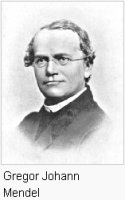 1 Scientists who study genetics study genes and heredity: how certain characteristics are inherited by offspring because their parents had these characteristics. Do you have the same eye color as your mother or father? Do twins run in your family? These characteristics, or traits, are inherited. They are passed from your parents to you by genes. Genes contain DNA that occupies a specific place on a chromosome. DNA determines a specific trait in the organism. Even the fact that you were born a boy or a girl was determined by genes. DNA is found in the nucleus of each cell. When a baby is made, one cell from the father joins with one cell from the mother. This tiny cell contains all the information stored in DNA to make a new person - you! If you are a boy, you were given DNA from your father containing a "Y" chromosome. If you are a girl, you were given DNA from your father containing an "X" chromosome. Your mother could only give you an X chromosome. Girls have two X chromosomes, and boys have an X and a Y chromosome. The information in the DNA you inherited from your parents also determined what color of eyes you would have, the color of your hair, the type of ear lobes you have, and whether or not you can roll your tongue.

2 The first geneticist was Gregor Mendel. In 1865 he published a paper describing experiments he did with garden peas. He noticed that certain traits in the parent plants could be predicted to occur in a certain percentage of the offspring. Traits like plant height, blossom color, color of peas, and whether the peas were wrinkled or smooth appeared to be passed down from the parent plant to the offspring. Mendel did not know about DNA or chromosomes, and he could not explain how these traits were passed down. His work was mostly ignored for many years.

Paragraphs 3 to 4:
For the complete story with questions: click here for printable


---
Weekly Reading Books
---
Feedback on What Does a Geneticist Do?


---
Careers in Science


---
Labor Day


---
Science





Copyright © 2018 edHelper