'); } var S; S=topJS(); SLoad(S); //-->
---
What Does a Biologist Do?


Print What Does a Biologist Do? Reading Comprehension with Fifth Grade Work

Print What Does a Biologist Do? Reading Comprehension with Sixth Grade Work

Print What Does a Biologist Do? Reading Comprehension




Reading Level

| | | |
| --- | --- | --- |
| | edHelper's suggested reading level: | grades 5 to 8 |
| | Flesch-Kincaid grade level: | 9.07 |

Vocabulary

| | | | |
| --- | --- | --- | --- |
| | challenging words: | | teaching, infectious, science, organism, greenhouse, extinction, affected, microscope, design, subject, identify, biologist, interact, cancer, public, rainforest |

Other Languages
Spanish: ¿Qué hace un biólogo?


---
What Does a Biologist Do?
By Cindy Grigg
---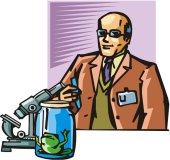 1 Is science your favorite subject in school? Are you wondering what kinds of jobs there are in the field of science? One type of career in the science field is that of a biologist. A biologist studies living things and their environments, or the world around them, and how living things affect and are affected by their environment. The area where something lives and its environment is called a habitat.

2 When biologists talk about living things, they mean much more than just animals. Biologists study everything! They study algae and to one-celled animals like amoebas. They study slime molds and plants. They study invertebrate and vertebrate animals. They study reptiles and mammals. They study habitats, too. Every living thing lives in an environment, or habitat, that is suited to the way the organism lives. There are lots of different kinds of living organisms because there are lots of different kinds of environments.

3 Some biologists study one type of environment and all the different living things that live there. For example, a marine biologist studies plants and animals that live in the ocean. Some biologists study just humans and their environments. Some cell biologists study cells, the smallest part of a living thing. Cell biologists study the way cells are made, the parts that make up a cell, the way these parts all work together and interact with their surroundings, and the cell's life cycle. The study of cell biology has led to an understanding of human tumors. Maybe someday, it will help scientists find a cure for cancer.

Paragraphs 4 to 7:
For the complete story with questions: click here for printable


---
Weekly Reading Books
---
Feedback on What Does a Biologist Do?


---
Careers in Science


---
Labor Day


---
Science





Copyright © 2018 edHelper