'); } var S; S=topJS(); SLoad(S); //-->
---
Penny the Pint-Sized Penguin


Print Penny the Pint-Sized Penguin Reading Comprehension with Second Grade Work

Print Penny the Pint-Sized Penguin Reading Comprehension with Third Grade Work

Print Penny the Pint-Sized Penguin Reading Comprehension



Reading Level

| | | |
| --- | --- | --- |
| | edHelper's suggested reading level: | grades 2 to 3 |
| | Flesch-Kincaid grade level: | 4.83 |

Vocabulary

| | | | |
| --- | --- | --- | --- |
| | challenging words: | | slider, nickname, races, lined, belly, fastest, easily, picked, race, join, team, line, bottom, seen, hatched, still |
| | content words: | | Pint-Sized Penguin, Pint Sized Penguin |

Other Languages
Spanish: Penny, la pingüina pequeñita


---
Penny the Pint-Sized Penguin
By Tracy Huntley
---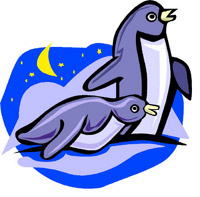 1
Penny the penguin was very small. From the day her mother laid her egg, everyone said how tiny she was.
2
When her father held the egg on his feet, the other fathers said, "That is the smallest egg we have ever seen."
3
One spring day when Penny hatched from her egg, she got the nickname "Penny the Pint-Sized Penguin".
Paragraphs 4 to 9:
For the complete story with questions: click here for printable
---
Weekly Reading Books
---
Feedback on Penny the Pint-Sized Penguin


---
Polar Regions


---
Penguins Theme Unit


---
More Lessons



---
Animals



Copyright © 2018 edHelper