'); } var S; S=topJS(); SLoad(S); //-->
---

Sample De "L'il Folkes" à "Peanuts" Worksheet
Reading Comprehension Worksheets

edHelper.com subscribers: print De "L'il Folkes" à "Peanuts"

Your Help is Needed! Help Improve This Story and the French text. Leave your corrections and comments about the French text in this story.


Other Languages
English: From "L'il Folks" to "Peanuts"

---
De "L'il Folkes" à "Peanuts"
By Jody Williams
Translation by Christine El-Solh
---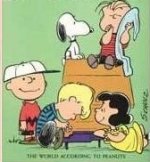 1
Charlie Brown ne va-t-il jamais donner un coup de pied à un ballon de football? Lucy va-t-elle toujours l'écarter? Les fans de «Peanuts» posent ces questions. Peanuts débuta le 2 octobre 1950. La bande dessinée parut dans sept journaux aux Etats-Unis.
2
La bande dessinée «Peanuts» fut crée par Charles Schulz. Il est né le 26 novembre 1922. Il est né dans le Minnesota. L'oncle de Charles le surnomma «Sparky». Il le surnomma d'après un cheval adoré. Charles aimait beaucoup l'école maternelle. Sa maîtresse lui dit qu'un jour il serait un artiste. Il la crut.
3
Charles a fait les beaux-arts. Il travaillait chez lui. Il envoyait son travail à son professeur par la poste. Charles aimait cela parce qu'il était timide. Il termina l'école d'art. Charles partit à la guerre. Il participa à la deuxième guerre mondiale. Lorsqu'il rentra il travailla pour une revue. Il dessinait des bandes dessinées. Ensuite il devint professeur. Il se fit beaucoup d'amis. L'un de ses amis s'appelait Charlie Brown. Il utilisa ce nom dans sa bande dessinée. Sa première bande dessinée s'appelait «L'il Folks. »
Paragraphs 4 to 8:
For the complete story with questions: click here for printable
---
Weekly Reading Books
---
More Activities, Lesson Plans, and Worksheets




Copyright © 2011 edHelper