---
Smaller Reading Workbook
Print a reading, proof reading, cloze, math, and writing practice with mixed review all in one small easy to print workbook. A top teacher resource.
---
Quick math minute worksheets to fill in 15-minute gaps in classroom time.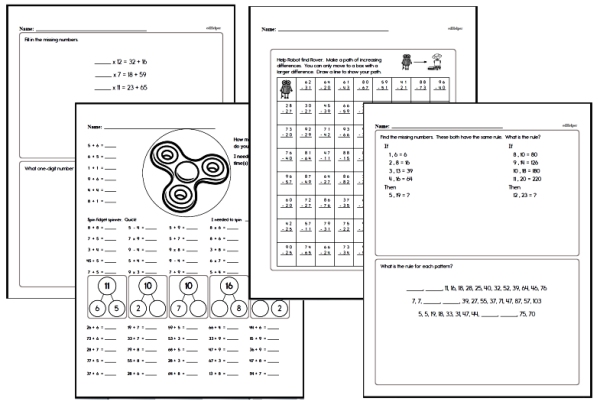 Math Minutes
---
What do kids learn in the sixth grade?
Sixth grade may be the first year of middle school and with that comes many adjustments and new encounters. Rigor and complexity increase as students are expected to utilize and sharpen the skills they have learned in the preceding grades in order to work at a high level and to prepare for high school, college, and career. The goal of reading at this level is to increase text complexity in all genres, particularly nonfiction. Summarizing, inferring, and analyzing should take place in selections across the curriculum. A deepened understanding of point of view, vocabulary skills (roots, context clues, and reference materials), use of textual evidence, and recognition of figurative language will be cultivated. In math, students will concentrate on geometry, statistics and data, patterns, ratios, percentages, negative numbers, and other complicated math concepts. Students will continue to hone problem-solving processes. The vast resources available in this unit are designed to appeal to the interests of this age group while promoting critical thinking skills. Features include weekly and monthly take-home workbooks, homework review, STEM and STEAM books, all with attention-grabbing fun, such as employing fidget spinners on timed math sheets. You can be assured that the material is aligned with current standards to support classroom goals. To avoid student boredom and burnout, use this top teacher resource to keep your sixth graders' skills sharp and their interest piqued!
---