---
Smaller Reading Workbook
Print a reading, proof reading, cloze, math, and writing practice with mixed review all in one small easy to print workbook. A top teacher resource.
---
Quick math minute worksheets to fill in 15-minute gaps in classroom time.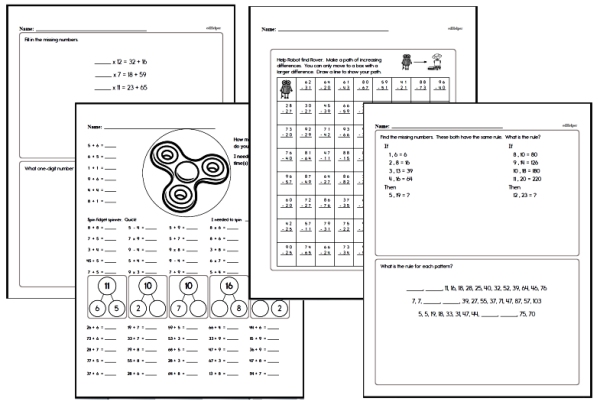 Math Minutes
---
What do kids learn in the fifth grade?
Fifth grade is the year for students to fortify the skills they have acquired up to this point and expand them even further as they gear up for middle school. Fifth graders are urged to show independence in their learning and know what processes to follow to achieve their objectives because, by now, they have the basics well in hand. Specifically, reading concentrates on teaching students to understand the texts they read and to develop and support ideas using facts, quotes, and details in discussion and writing. In writing, more opportunities will be given to express their distinctive opinions and ideas in order to practice strength, length, and organization, incorporating more detail in argument, narrative, and informational pieces. In fifth grade math, students perform more complex calculations with all four basic operations, concentrating on fractions, decimals, and multi-digit numbers. They may also practice multiple-step equations and problem solving using real-life situations, which also includes explaining how they obtained their answers. Rounding decimals, plotting numbers, estimating, measuring, and following patterns finish up the math curriculum content. To offer your fifth graders exceptional and challenging standards-based review activities that will propel them to success, this unit fulfills the requirements. Realistic word problems, computations in many forms, original puzzles, find and fix proofing exercises, spelling, fiction and nonfiction reading selections, and writing prompts are just a sampling of the vast resources included in this unit that will engross your students in valuable review without monotony.
---