Worksheets and No Prep Teaching Resources


Make Puzzles




Creating puzzles should be as fun as doing them. Print a selection of pre-made workbooks with a mix of puzzles to engage kids and develop their spelling, math, and critical thinking skills.
---
Math Workbooks with Mixed Puzzles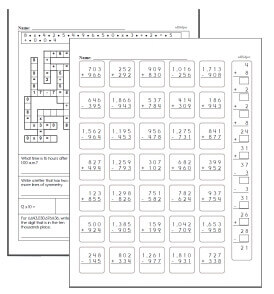 Math Workbooks with Mixed Puzzles
---
Critical Thinking Workbooks - Give as homework or use in the classroom.
Kids pick the pages to complete. Make as many as you want, a new workbook is created each time. The mixed critical thinking skills worksheets will ensure that your students will be sharp and ready for higher level thinking challenges! Brain teasers will become brain pleasers with these creative, stimulating worksheets that students will love to do just for fun.

---
Have Spelling Words?




---
Daily Critical Thinking Puzzles




---
Quick Prints - Printable Puzzles




---
Make and Create Puzzles


Enter your own words, get word suggestions, and build over 50 printables







---
Follow Directions to Color Squares Puzzles

Algebra Color Puzzles

Addition Color Puzzles


---
Drawing Shapes Challenge Lesson - Dot Game


---
Handwriting Word Search Puzzle
---
Daily Critical Thinking Skills - Get Mixed Puzzles at Once!



---
Runaway Math Puzzles


---
Magic Square Puzzles
Addition Squares
Super Silly Squares
Subtraction Squares
Multiplication Squares
---
Word Walls



---
Number Sequences


---
Addition Grouping




---
Number Bonds


---
Pattern Puzzles - Find the Patterns and Color Puzzle


---
Visual Perceptual


---
Copying Challenge


---
More Puzzles
Number Word Searches
Missing Digits
Math Words
Critical Thinking Puzzles
Word Building
Math Crossnumber
Math Box
Math Sequences
Bingo
Cloze


---
Secret Codes



---
Quick Prints

---
Quick Handouts with Pictures
(only words in which edHelper has a picture will be included in the handout)