'); } var S; S=topJS(); SLoad(S); //-->
---

Sample "Heigh-ho" Worksheet
Reading Comprehension Worksheets

edHelper.com subscribers: print "Heigh-ho"

Your Help is Needed! Help Improve This Story and the French text. Leave your corrections and comments about the French text in this story.


Other Languages
English: "Heigh-ho"
Spanish: Hi-ho
Italian: "Ehoh"
German: "Hei ho"

---
"Heigh-ho"
By Jody Williams
Translation by Christine El-Solh
---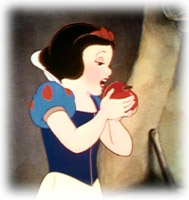 1
"Heigh-ho, Heigh-ho! On rentre du boulot." Sept petits hommes ont chanté ces mots en rentrant à pied de leur travail. Ils n'avaient pas idée de ce qui les attendait.
2
Le 21 décembre 1937 le monde regarda une partie de l'histoire. Walt Disney fit un film. Cela s'appelait « Blanche Neige et les Sept Nains. » Disney a eu l'idée lorsqu'il avait 15 ans. Il travaillait en tant que livreur de journaux. Il vit une version muette du film Il savait qu'il pouvait faire mieux.
3
Blanche Neige est l'histoire d'une fille. Elle s'échappe de sa belle-mère méchante. Sa Belle-mère veut être « la plus belle ». Elle est jalouse de Blanche Neige. Elle essaye de se débarrasser d'elle. Blanche Neige se cache dans les bois. Elle rencontre sept petits hommes. Ceux sont les nains. Blanche Neige cohabite avec les nains. Sa belle-mère la trouve. Elle ressemble à une vieille femme. Elle donne une pomme à Blanche Neige. Blanche Neige mange la pomme. Elle tombe dans un sommeil profond. Un prince trouve Blanche Neige. Il l'embrasse. Blanche Neige se réveille. Ils vécurent heureux jusqu'à la fin des temps.
Paragraphs 4 to 7:
For the complete story with questions: click here for printable
---
Weekly Reading Books
---
More Activities, Lesson Plans, and Worksheets




Copyright © 2011 edHelper