'); } var S; S=topJS(); SLoad(S); //-->
---
Print ¿Por qué tiritamos?

Quickly Print - PDF format

Quickly Print - HTML format
Your Help is Needed! Help Improve This Story and the Spanish text. Leave your corrections and comments about the Spanish text in this story.


Other Languages
English: Why Do We Shiver?

---
¿Por qué tiritamos?
By Erin Horner
Translation by Traductor TT
---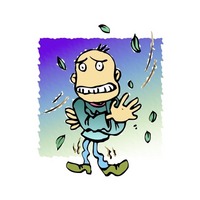 1
Me gusta tomar un baño. Me gusta la forma en que se siente el agua caliente sobre la piel. ¡No me gusta salir de la bañera! Cuando salgo, tengo mucho frío. A veces, tengo tanto frío que me empiezan a castañetear los dientes y empiezo a tiritar. ¿Por qué tiritamos cuando tenemos frío? Es un reflejo. Como todos los reflejos, tiritar es algo involuntario. No tenemos que pensar en un reflejo para que suceda. Cuando el aire alrededor de nosotros tiene repentinamente menos temperatura, los nervios de la piel sienten que tenemos frío. Estos nervios entonces envían mensajeros que corren a la médula espinal y al cerebro.
.....For the complete story with questions: click here for printable
---
Weekly Reading Books
---
More Activities, Lesson Plans, and Worksheets




Copyright © 2011 edHelper