'); } var S; S=topJS(); SLoad(S); //-->
---
Print ¿Qué te hace feliz?

Quickly Print - PDF format

Quickly Print - HTML format
Your Help is Needed! Help Improve This Story and the Spanish text. Leave your corrections and comments about the Spanish text in this story.


Other Languages
English: What makes you happy?
French: Qu'est-ce qui te rend heureux?
Italian: Che cosa ti rende felice?
German: Was macht dich glücklich?

---
¿Qué te hace feliz?
By Shannon Jackson
Translation by Sonia M. Brownridge
---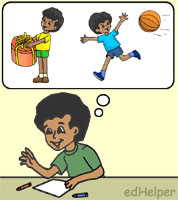 1
¿Qué te hace feliz? Esta semana vamos averiguar que te hace sentir feliz. Aquí está lo que puedes hacer. Anote las mayoría de los momentos felices de cada día. Puede ser una palabra o una oración. Puedes hacer un dibujo. Puedes hacer esto cada día para ver lo que te hace feliz. Mantenga el registro en un cuaderno. Será divertido mirar cuando este más viejo. ¡Eso te hará feliz también!
2
¿Te hace feliz ayudar? ¿Te hace feliz cuando juegas? Algunas personas se sienten felices de las cosas que ellos ven. ¿Qué son algunas cosas que tu ves que te hacen feliz? ¿Hay una canción que te hace feliz? Usted podría escribir las palabras de la canción. Usted podría hacer un dibujo para la canción. Puedes cantar la canción y sonreir.
Paragraphs 3 to 4:
For the complete story with questions: click here for printable
---
Weekly Reading Books
---
More Activities, Lesson Plans, and Worksheets




Copyright © 2011 edHelper