'); } var S; S=topJS(); SLoad(S); //-->
---
Print ĦArándanos saltarines!

Quickly Print - PDF format

Quickly Print - HTML format
Your Help is Needed! Help Improve This Story and the Spanish text. Leave your corrections and comments about the Spanish text in this story.


Other Languages
English: Bouncy Cranberries!

---
ĦArándanos saltarines!
By Colleen Messina
Translation by Traductor TT
---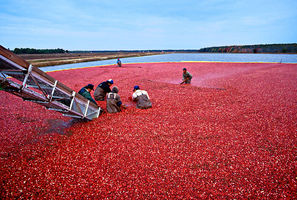 1
ĦToing! ĦToing! ĦToing! Los arándanos maduros pueden rebotar. Por eso les pusieron el sobrenombre de arándanos saltarines. Van rebotando y rebotando hasta llegar a casi todas las mesas de Acción de Gracias.
2
Es una tradición comer salsa de arándanos con el pavo asado. Los agricultores los cuidan hasta que están listos. Se cultivan grandes cantidades de estas frutas pequeñas cada año. Se cosechan entre 3000 y 3500 millones de estas frutas. Con esa cantidad se puede hacer mucha salsa.
Paragraphs 3 to 4:
For the complete story with questions: click here for printable
---
Weekly Reading Books
---
More Lessons


---
More Activities, Lesson Plans, and Worksheets




Copyright © 2011 edHelper