'); } var S; S=topJS(); SLoad(S); //-->
---
Shining Sea, Come Back
Reading Level

| | | |
| --- | --- | --- |
| | edHelper's suggested reading level: | grades 1 to 3 |
| | Flesch-Kincaid grade level: | 3.49 |

Vocabulary

| | | | |
| --- | --- | --- | --- |
| | challenging words: | | caption, decompose, high-pressure, hot-water, lasts, layer, lines, nets, photosynthesis, seals, shoreline, spills, tanker, toxic, twilight, watery-blue |
| | content words: | | Exxon Valdez |
---
Print Shining Sea, Come Back

Quickly Print - PDF format

Quickly Print - HTML format

Proofreading Activity


---
Feedback on Shining Sea, Come Back


---
Shining Sea, Come Back
By Colleen Messina
---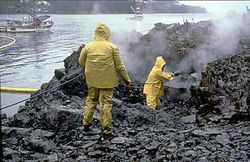 1
Caption: Workers using high-pressure, hot-water washing to clean an oiled shoreline after the
Exxon Valdez
oil spill in 1989.
2
Part of
America the Beautiful
is about a "shining sea." What do you think of when you hear those words? A clean, fresh ocean? It is too bad that the ocean is not that clean. Ocean pollution is a big problem.
3
The ocean covers 70% of the Earth's surface. The ocean has different layers in it like a big, watery-blue layer cake. These layers are called zones. The top zone has a happy name. It is the sunshine zone. It goes down about 600 feet.
Paragraphs 4 to 9:
For the complete story with questions: click here for printable

Extended Activities:

1. Draw a picture of the sunshine zone of the ocean. Include at least two animals and two fish in your picture.

2. Does your family recycle anything? If yes, explain how you do it. If not, write about a plan that your family could do to start recycling.


---
Weekly Reading Books
---
More Lessons


---
More Activities, Lesson Plans, and Worksheets




Copyright © 2011 edHelper