'); } var S; S=topJS(); SLoad(S); //-->
---
Print Krach !

Quickly Print - PDF format

Quickly Print - HTML format
Your Help is Needed! Help Improve This Story and the French text. Leave your corrections and comments about the French text in this story.


Other Languages
English: Crash!
Spanish: La Quiebra
German: Absturz!

---
Krach !
By Jody Williams
Translation by Merry Gilliot
---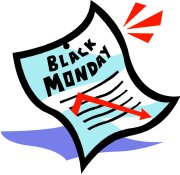 1
Savais-tu que les jours peuvent être associés à une couleur? En anglais un jour rouge est un jour mémorable. Un jour bleu veut dire un jour triste. Un jour noir signifie normalement que quelque chose de mauvais s'est passé. Le 19 octobre 1987 est appelé 'Lundi noir'. La cote de la Bourse a chuté. Lorsque cela s'est produit, les gens ont perdu de l'argent. Ils ont perdu leur travail. Cela s'est passé aux quatre coins du monde.
2
La Bourse des valeurs est un endroit où les gens travaillent. Ils travaillent pour gagner de l'argent pour d'autres gens. Les gens achètent des actions. Celles-ci sont des fragments d'entreprises. Les actions montent et descendent. Les gens gagnent de l'argent quand les actions montent. Les gens perdent de l'argent quand les actions descendent.
Paragraphs 3 to 4:
For the complete story with questions: click here for printable
---
Weekly Reading Books
---
More Activities, Lesson Plans, and Worksheets




Copyright © 2011 edHelper