'); } var S; S=topJS(); SLoad(S); //-->
---
Print La Quiebra

Quickly Print - PDF format

Quickly Print - HTML format
Your Help is Needed! Help Improve This Story and the Spanish text. Leave your corrections and comments about the Spanish text in this story.


Other Languages
English: Crash!
French: Krach !
German: Absturz!

---
La Quiebra
By Jody Williams
Translation by Sonia M. Brownridge
---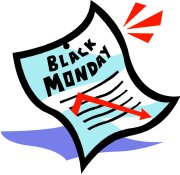 1
¿Sabías que los días tienen color? El rojo generalmente significa feliz, como un día rojo. El azul generalmente significa triste. El negro generalmente significa algo malo. El 19 de octubre de 1987 se conoce como "el Lunes Negro." Los números de mercado de valores cayeron. Cuándo esto sucedió, las personas perdieron dinero. Ellos perdieron sus trabajos. Esto sucedió por todo el mundo.
2
El mercado de valores es un lugar donde personas trabajan. Ellos trabajan para ganar dinero para otras personas. Las personas compran acciones. Estas son las partes de compañías. Las acciones suben y bajan. Las personas ganan dinero cuando las acciones suben. Las personas pierden dinero cuando las acciones bajan.
Paragraphs 3 to 4:
For the complete story with questions: click here for printable
---
Weekly Reading Books
---
More Activities, Lesson Plans, and Worksheets




Copyright © 2011 edHelper