'); } var S; S=topJS(); SLoad(S); //-->
---
Print ¡Los médicos nos ayudan y nos curan!

Quickly Print - PDF format

Quickly Print - HTML format
Your Help is Needed! Help Improve This Story and the Spanish text. Leave your corrections and comments about the Spanish text in this story.


Other Languages
English: Doctors Help Us and Heal Us!

---
¡Los médicos nos ayudan y nos curan!
By Erin Horner
Translation by Traductor TT
---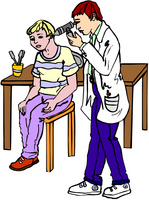 1
A veces me enfermo. Tengo la nariz tapada o me duele la garganta. A veces me caigo y me lastimo. Una vez me quebré un brazo. Tuve que usar un yeso durante seis semanas. ¡Eso no fue divertido! Cuando estoy enfermo o herido, voy al médico. Los médicos nos ayudan al tratar nuestras enfermedades y lesiones. Con frecuencia los médicos dan medicamentos a sus pacientes para que se sanen. Otras veces les dan instrucciones a los pacientes. Si la persona cumple con estas "órdenes del médico", se mejorará pronto. Los médicos también nos pueden ayudar cuando estamos sanos. ¡Nos ayudan a mantenernos sanos! Nos enseñan a cuidar de nuestros cuerpos. Nos recuerdan que debemos comer alimentos saludables y hacer mucho ejercicio. A veces, nos ayudan a mantenernos sanos con vacunas. Las vacunas no son muy divertidas. Cuando
.....For the complete story with questions: click here for printable
---
Weekly Reading Books
---
More Lessons


---
More Activities, Lesson Plans, and Worksheets




Copyright © 2011 edHelper