'); } var S; S=topJS(); SLoad(S); //-->
---
Doctors Help Us and Heal Us!


Print Doctors Help Us and Heal Us! Reading Comprehension with Third Grade Work

Print Doctors Help Us and Heal Us! Reading Comprehension with Fourth Grade Work

Print Doctors Help Us and Heal Us! Reading Comprehension with Fifth Grade Work

Print Doctors Help Us and Heal Us! Reading Comprehension




A Very Quick Reader

Reading Level

| | | |
| --- | --- | --- |
| | edHelper's suggested reading level: | grades 3 to 5 |
| | Flesch-Kincaid grade level: | 2.43 |

Vocabulary

| | | | |
| --- | --- | --- | --- |
| | challenging words: | | sometimes, shots, nose, remind, sick, better, often, pain, than, sore, also, throat, plenty, great, without, other |

Other Languages
Spanish: íLos médicos nos ayudan y nos curan!


---
Doctors Help Us and Heal Us!
By Erin Horner
---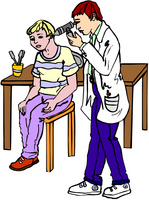 1 Sometimes I get sick. My nose gets stuffed up, or I get a sore throat. Sometimes I fall down and get hurt. Once I broke my arm. I had to wear a cast for six weeks. That was not fun! When I am sick or hurt, I go to the doctor. Doctors help us by treating our illnesses and injuries. Often a doctor will give a patient medicine to make him well. Other times, he or she will give a patient instructions. If a person follows these "doctor's orders," he or she will feel better soon. Doctors can also help us when we are healthy. They help to keep us that way! Doctors teach us how to take care of our bodies. They remind us to eat healthy foods and get plenty of exercise. Sometimes, they .....
For the complete story with questions: click here for printable


---
Weekly Reading Books
---
Feedback on Doctors Help Us and Heal Us!


---
Community Helpers



Copyright © 2018 edHelper