'); } var S; S=topJS(); SLoad(S); //-->
---
Print Limpieza de primavera

Quickly Print - PDF format

Quickly Print - HTML format
Your Help is Needed! Help Improve This Story and the Spanish text. Leave your corrections and comments about the Spanish text in this story.


Other Languages
English: Spring Cleaning!

---
Limpieza de primavera
By Beth Beutler
Translation by Traductor TT
---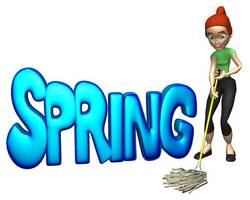 1
¿No es maravillosa la primavera? Finalmente está comenzando a hacer calor. ¿Notaste las hojas del pasto extendiéndose hacia el sol? Las flores están comenzando a aparecer también. ¡Pronto estarán florecientes! ¡Los árboles se están volviendo más verdes!
2
La primavera nos inspira a pensar sobre comienzos y nuevos inicios. Ése sea probablemente el motivo por el cual mucha gente hace una "limpieza general". Quieren abrir sus hogares y airearlos. Quieren deshacerse del polvo y del desorden. Quieren liberar los ambientes de sentimientos fuertes, oprimidos y negativos. La calidez de la primavera les da energía para limpiar las cosas y empezar de nuevo.
Paragraphs 3 to 4:
For the complete story with questions: click here for printable
---
Weekly Reading Books
---
More Lessons


---
More Activities, Lesson Plans, and Worksheets




Copyright © 2011 edHelper