'); } var S; S=topJS(); SLoad(S); //-->
---
Rebecca's Family Visits the Food Bank


Print Rebecca's Family Visits the Food Bank Reading Comprehension with First Grade Work

Print Rebecca's Family Visits the Food Bank Reading Comprehension with Second Grade Work

Print Rebecca's Family Visits the Food Bank Reading Comprehension with Third Grade Work

Print Rebecca's Family Visits the Food Bank Reading Comprehension



Reading Level

| | | |
| --- | --- | --- |
| | edHelper's suggested reading level: | grades 1 to 3 |
| | Flesch-Kincaid grade level: | 3.87 |

Vocabulary

| | | | |
| --- | --- | --- | --- |
| | challenging words: | | might, bills, budget, canned, cans, counts, dental, everyone, forklift, insecure, jewelry, medical, someday, volunteer, enough, think |
| | content words: | | United States Department |

Other Languages
French: La Famille de Rébecca rend visite à la Banque Alimentaire *
Spanish: La familia de Rebecca visita el banco alimentario
Italian: La famiglia di Rebecca fa visita al banco alimentare.
German: Rebeccas Familie besucht den Tafelladen


---
Rebecca's Family Visits the Food Bank
By Colleen Messina
---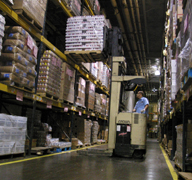 1
You might think that everyone in America has enough to eat. After all, it is called the land of opportunity. However, many families go hungry.
2
Rebecca knew what it was like to be hungry. Her father had an accident. He could not work. They did not have enough money to pay bills. Rebecca's mother had a job. But the family still struggled. And they also struggled to have enough to eat.
3
Rebecca's mother tried many things. She didn't eat very much so that her children had enough food. She even did her own dental work. Ouch! She sadly sold some old family jewelry. These heirlooms were special to her. But she wanted to buy food for her children. One day a friend told them about the local food bank. Rebecca's family got groceries there. It helped them a lot.
Paragraphs 4 to 7:
For the complete story with questions: click here for printable

Extended Activities:

1. Assemble a sample of five items that would be a good selection to pick during a shopping expedition at the food bank. Try to have one kind of fruit, one kind of vegetable, one grain, one protein, and one beverage.

2. Write a list of three kinds of people who might need the help of the food bank. Include the reasons that they need help for a while. If you like, draw a picture of each person getting food from the food bank.


---
Weekly Reading Books
---
Feedback on Rebecca's Family Visits the Food Bank


---
More Lessons



Copyright © 2018 edHelper