'); } var S; S=topJS(); SLoad(S); //-->
---
Annabelle from Uganda Fights HIV


Print Annabelle from Uganda Fights HIV Reading Comprehension with First Grade Work

Print Annabelle from Uganda Fights HIV Reading Comprehension with Second Grade Work

Print Annabelle from Uganda Fights HIV Reading Comprehension with Third Grade Work

Print Annabelle from Uganda Fights HIV Reading Comprehension



Reading Level

| | | |
| --- | --- | --- |
| | edHelper's suggested reading level: | grades 1 to 3 |
| | Flesch-Kincaid grade level: | 3.52 |

Vocabulary

| | | | |
| --- | --- | --- | --- |
| | challenging words: | | nervous, breastfed, coughs, longer, rainfall, tested, tests, tribe, virus, also, being, blood, body, care, careful, country |
| | content words: | | United States |

Other Languages
Spanish: Annabelle de Uganda lucha contra el VIH


---
Annabelle from Uganda Fights HIV
By Colleen Messina
---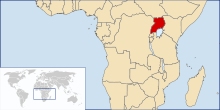 1
Annabelle felt sad and nervous. She was waiting for the results of a test. It was not a test from school. She was in a doctor's office. She had been tested for a virus called HIV.
2
Annabelle is 11 years old. She lives in Uganda. Both of her parents died from AIDS. AIDS is a disease that comes from the HIV virus. Annabelle does have the HIV virus. She got it from her mother when her mother breastfed her.
3
At least 110,000 children in Uganda are living with HIV and AIDS. At first, they have no symptoms. Later, they get fevers and coughs. They feel as though they have the flu. HIV makes their immune system weak. Their bodies can no longer fight infections. When they get AIDS, they can get many infections. People with AIDS die from these infections. There is no cure for HIV and AIDS.
Paragraphs 4 to 7:
For the complete story with questions: click here for printable

Extended Activities:

1. Pretend that you are chosen to give some toys to Annabelle to welcome her to your class. Describe three kinds of toys that you would give to her, and explain why she would like them.

2. Pretend that you are the emcee at a school assembly to welcome students from foreign countries. Write a speech that you would give to the school about Annabelle. Make a poster for your speech that includes information and pictures about Uganda.

3. Pretend that you own an adoption agency that places children like Annabelle with American families. Write a list of five questions that you would ask each family about why they want to adopt a child like Annabelle.


---
Weekly Reading Books
---
Feedback on Annabelle from Uganda Fights HIV


---
More Lessons



Copyright © 2018 edHelper