'); } var S; S=topJS(); SLoad(S); //-->
---
Marco Splashes in Acid Rain


Print Marco Splashes in Acid Rain Reading Comprehension with First Grade Work

Print Marco Splashes in Acid Rain Reading Comprehension with Second Grade Work

Print Marco Splashes in Acid Rain Reading Comprehension with Third Grade Work

Print Marco Splashes in Acid Rain Reading Comprehension



Reading Level

| | | |
| --- | --- | --- |
| | edHelper's suggested reading level: | grades 1 to 3 |
| | Flesch-Kincaid grade level: | 3.38 |

Vocabulary

| | | | |
| --- | --- | --- | --- |
| | challenging words: | | liked, acid, acidic, affected, asthma, bridges, coal-burning, collapse, emergency, lived, natural, northeastern, pipes, rain, play, also |
| | content words: | | New Jersey, United States |
---
Marco Splashes in Acid Rain
By Colleen Messina
---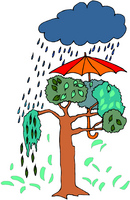 1
Marco liked to play in the rain. He put on his galoshes. He splashed in puddles. He turned his face up to the sky. He opened his mouth and caught the rain! It tasted cold, fresh, and clean.
2
Marco lived in New Jersey. New Jersey is in the northeastern United States. There are many factories near Marco's home. There are also power plants. A lot of smoke comes out of these places. This smoke affected the rain that Marco played in.
3
The rain still looked clean. But it wasn't. It was polluted acid rain. The rain made Marco very sick. Marco had asthma. It affected his lungs. The acid rain made it worse. Marco could not breathe. His throat hurt. Marco had to go to the emergency room. Acid rain hurt Marco. It hurts people with asthma and causes other problems.
Paragraphs 4 to 8:
For the complete story with questions: click here for printable

Extended Activities:

1. Look around your city or town. Find one factory or power plant that emits lots of smoke. Then, write a formal letter to this place and ask them if they are doing anything to make sure the smoke from their factories is as clean as possible. Tell them a little bit about acid rain. You can decide with your parents and teacher if you want to send your letter or not.

2. If you had to organize a fundraiser to help stop acid rain, what kind of fundraiser would you do? How much money would you like to raise?


---
Weekly Reading Books
---
Feedback on Marco Splashes in Acid Rain


---
More Lessons



Copyright © 2018 edHelper