'); } var S; S=topJS(); SLoad(S); //-->
---
Suleiman Flies a Kite in a Refugee Camp


Print Suleiman Flies a Kite in a Refugee Camp Reading Comprehension with First Grade Work

Print Suleiman Flies a Kite in a Refugee Camp Reading Comprehension with Second Grade Work

Print Suleiman Flies a Kite in a Refugee Camp Reading Comprehension with Third Grade Work

Print Suleiman Flies a Kite in a Refugee Camp Reading Comprehension



Reading Level

| | | |
| --- | --- | --- |
| | edHelper's suggested reading level: | grades 1 to 3 |
| | Flesch-Kincaid grade level: | 2.86 |

Vocabulary

| | | | |
| --- | --- | --- | --- |
| | challenging words: | | camp, anymore, camps, caption, dreams, estimate, kids, landlocked, likes, north-central, refugee, soccer, someday, stayed, above, along |
| | content words: | | United States |
---
Suleiman Flies a Kite in a Refugee Camp
By Colleen Messina
---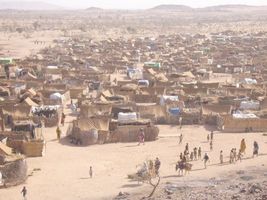 1
Caption: Darfur refugee camp in Chad
2
Suleiman likes to fly his kite. But it is not like a colorful kite that kids fly in the United States. It is not colorful. It is not big. His kite is made from a black plastic bag. He flies it over his home in a refugee camp.
3
Many children live in the camp. They still find ways to have fun. They invent games. They play soccer and tag in the hot sun. The fields are dusty. They even make swings from the old plastic bags. They hang the swings from tree branches. But there are not many trees in the country of Chad.
Paragraphs 4 to 8:
For the complete story with questions: click here for printable

Extended Activities:

1. Build your own refugee camp out of boxes and pretend that you live there with your friends. Then, write a few paragraphs about what you think your daily life would be like in a refugee camp. What kind of jobs would you do? What would school be like? What would life be like without enough food and water?

2. Imagine that you have the opportunity to give kites to children like Suleiman in a refugee camp. Design and draw a picture of the special kite that you would give to this boy, and write him a note with a message of hope for the future next to your picture.


---
Weekly Reading Books
---
Feedback on Suleiman Flies a Kite in a Refugee Camp


---
Kites


---
More Lessons



Copyright © 2018 edHelper