'); } var S; S=topJS(); SLoad(S); //-->
---
Landmines: Deadly Surprises


Print Landmines: Deadly Surprises Reading Comprehension with First Grade Work

Print Landmines: Deadly Surprises Reading Comprehension with Second Grade Work

Print Landmines: Deadly Surprises Reading Comprehension with Third Grade Work

Print Landmines: Deadly Surprises Reading Comprehension



Reading Level

| | | |
| --- | --- | --- |
| | edHelper's suggested reading level: | grades 1 to 3 |
| | Flesch-Kincaid grade level: | 4.15 |

Vocabulary

| | | | |
| --- | --- | --- | --- |
| | challenging words: | | soldier, afghanistan, anymore, arms, caption, farmland, fuse, limbs, mines, prosthesis, purpose, unusable, war-torn, working, accident, animal |
| | content words: | | International Committee, Red Cross, Mine Ban Treaty |
---
Landmines: Deadly Surprises
By Colleen Messina
---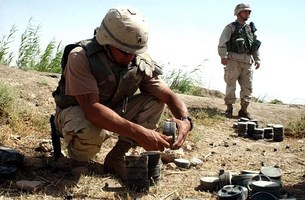 1
Caption: U.S. Soldier removes fuse from a Russian-made mine in Iraq in 2003
2
In some war-torn countries, children pick up objects that look like toys. But these objects are not toys. They are called land mines. They explode. They cause appalling accidents. Many children have been hurt by land mines.
3
A land mine explodes with a little bit of pressure on it. It explodes when a person, an animal, or a vehicle gets close to it. Armies use land mines to slow down their enemies. Soldiers put them on the ground. They put them under the ground. Land mines remain after a war ends. Some land mines make farmland unusable. The farmers can't grow food in those fields anymore.
Paragraphs 4 to 6:
For the complete story with questions: click here for printable

Extended Activities:

1. Write a job description for a person who would operate a land mine-detecting machine. Include a description of the country where the person would work and the qualities he or she would need to have to be able to do this type of work.

2. Design a poster to educate people about land mines and make them want to help children who have been injured by them.


---
Weekly Reading Books
---
Feedback on Landmines: Deadly Surprises


---
More Lessons



Copyright © 2018 edHelper