'); } var S; S=topJS(); SLoad(S); //-->
---
A Good Gang!


Print A Good Gang! Reading Comprehension with First Grade Work

Print A Good Gang! Reading Comprehension with Second Grade Work

Print A Good Gang! Reading Comprehension with Third Grade Work

Print A Good Gang! Reading Comprehension



Reading Level

| | | |
| --- | --- | --- |
| | edHelper's suggested reading level: | grades 1 to 3 |
| | Flesch-Kincaid grade level: | 1.66 |

Vocabulary

| | | | |
| --- | --- | --- | --- |
| | challenging words: | | home, anymore, gangs, school, soccer, friend, afternoon, angry, anyway, brother, city, either, even, ever, feel, game |
| | content words: | | Ugly Thugs |

Other Languages
Spanish: ĦUna buena pandilla!


---
A Good Gang!
By Colleen Messina
---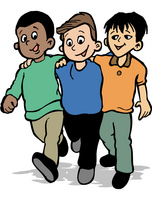 1
Ron walked slowly home from school. His friend Ben walked with him. It was a warm spring day. It was a perfect day to play soccer in the park!
2
"Let's get the gang together to play soccer this afternoon," said Ron.
3
Ben walked slowly and kicked a rock.
4
"I don't like that word," said Ben suddenly. He seemed angry.
Paragraphs 5 to 14:
For the complete story with questions: click here for printable

Extended Activities:

1. Pretend that you are a newspaper reporter doing research for an article on gangs in your area. Interview your parents or a teacher about whether any gangs exist in your city. Ask them what they think about gangs and write down what they say. If no gangs exist in your city or town, ask the adults how they feel about gangs and write down their response.

2. Sports can help kids stay out of gangs. Design a poster for your favorite sport that will make kids want to play that sport. Be sure to include the name of the team and a picture of its uniform on your poster!


---
Weekly Reading Books
---
Feedback on A Good Gang!


---
More Lessons



Copyright © 2018 edHelper