'); } var S; S=topJS(); SLoad(S); //-->
---
Shooting Skeets!


Print Shooting Skeets! Reading Comprehension with First Grade Work

Print Shooting Skeets! Reading Comprehension with Second Grade Work

Print Shooting Skeets! Reading Comprehension with Third Grade Work

Print Shooting Skeets! Reading Comprehension



Reading Level

| | | |
| --- | --- | --- |
| | edHelper's suggested reading level: | grades 1 to 3 |
| | Flesch-Kincaid grade level: | 1.49 |

Vocabulary

| | | | |
| --- | --- | --- | --- |
| | challenging words: | | people, disc, marked, marks, shooters, skeet, sounds, travels, have, animal, begin, being, circle, close, direction, edge |
| | content words: | | Charles Davies, Clock Shooting, Olympic Games |

Other Languages
Spanish: íTiro al plato!


---
Shooting Skeets!
By Colleen Messina
---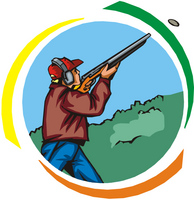 1
People have used guns in many ways. Guns helped people hunt for food. Guns were used in wars. Some people use guns in sports. Skeet shooting is one of those sports.
2
How did skeet shooting begin? A man who liked to hunt birds thought of it. Charles Davies liked to hunt grouse. He liked to practice shooting his gun. He invented a game around 1915. The game helped him practice.
3
Mr. Davies' game was called Clock Shooting. This is how the game was played. Mr. Davies set up a big circle. It looked liked the face of a clock. He marked points around the edge. The marks were where the numbers on a clock face are. Then, he set up a trap. The trap shot targets into the air. Mr. Davis stood at the marks around the circle. He shot at the targets. He and his friends had lots of fun!
Paragraphs 4 to 7:
For the complete story with questions: click here for printable
---
Weekly Reading Books
---
Feedback on Shooting Skeets!


---
Sports


---
More Lessons



Copyright © 2018 edHelper