'); } var S; S=topJS(); SLoad(S); //-->
---
Gertrude the Goose Gets a Surprise


Print Gertrude the Goose Gets a Surprise Reading Comprehension with First Grade Work

Print Gertrude the Goose Gets a Surprise Reading Comprehension with Second Grade Work

Print Gertrude the Goose Gets a Surprise Reading Comprehension with Third Grade Work

Print Gertrude the Goose Gets a Surprise Reading Comprehension



Reading Level

| | | |
| --- | --- | --- |
| | edHelper's suggested reading level: | grades 1 to 3 |
| | Flesch-Kincaid grade level: | 1.86 |

Vocabulary

| | | | |
| --- | --- | --- | --- |
| | challenging words: | | bale, barnyard, beak, cats, cows, eggs, fluffy, gobbled, jobs, leftover, nursery, petted, scraps, sticks, tabby, farmer |
| | content words: | | Mother Goose |
---
Gertrude the Goose Gets a Surprise
By Colleen Messina
---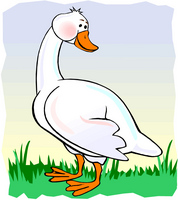 1
The barnyard was full. Bob the farmer had lots of animals! Bob had a little boy named Ben. Ben loved the farm animals. He played in the barnyard every day. He climbed on the hay bales. He also helped feed the animals. He petted the cats and threw sticks for the dogs. The animals liked Ben.
2
The farm animals helped Bob. Bob got milk from the brown cows. Bob got eggs from the red chickens. The pink pigs gobbled up the leftover scraps from Bob's dinner table. The gray tabby cats kept the barn free of mice. The white and black collies chased the cats. They also herded the sheep. These sheep also had a job. Bob sheared their fluffy coats each year and used their fleece. All the animals had jobs...except Gertrude.
3
Gertrude was a large goose. She had an orange beak. She had a loud honk. She waddled here and there. She had white feathers and soft down. The other farm animals noticed that she did not do very much.
Paragraphs 4 to 9:
For the complete story with questions: click here for printable
---
Weekly Reading Books
---
Feedback on Gertrude the Goose Gets a Surprise


---
More Lessons



Copyright © 2017 edHelper