'); } var S; S=topJS(); SLoad(S); //-->
---
Print Los carpinchos y sus "repeticiones digestivas"

Quickly Print - PDF format

Quickly Print - HTML format
Your Help is Needed! Help Improve This Story and the Spanish text. Leave your corrections and comments about the Spanish text in this story.


Other Languages
English: Capybaras and Their "Digestive Do-overs"

---
Los carpinchos y sus "repeticiones digestivas"
By Erin Horner
Translation by Traductor TT
---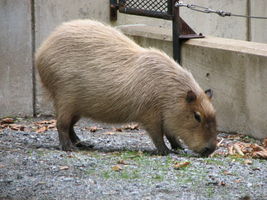 1
Carpincho en el Zoológico National de Washington, D.C.: fotografía de A. Sobkowski.
2
Anoche cociné pizza para la cena. Estaba realmente buena. Comí hasta que me llené. Luego, envolví las tres porciones que sobraron. Me encantan las sobras. Me encanta saber que disfrutaré una comida riquísima por segunda vez. ¿Sabías que a algunos animales les gusta disfrutar sus comidas por segunda vez también? No llamaría exactamente "sobras" a estas segundas raciones. Quizás "repeticiones digestivas" sería un término más adecuado. El carpincho es uno de esos animales.
Paragraphs 3 to 4:
For the complete story with questions: click here for printable
---
Weekly Reading Books
---
More Lessons



---
Animals


---
More Activities, Lesson Plans, and Worksheets




Copyright © 2011 edHelper