'); } var S; S=topJS(); SLoad(S); //-->
---
Print Un misterio de flores: ¿Es un bulbo o un cormo?

Quickly Print - PDF format

Quickly Print - HTML format
Your Help is Needed! Help Improve This Story and the Spanish text. Leave your corrections and comments about the Spanish text in this story.


Other Languages
English: A Flower Mystery: Is It a Bulb or a Corm?

---
Un misterio de flores: ¿Es un bulbo o un cormo?
By Colleen Messina
Translation by Traductor TT
---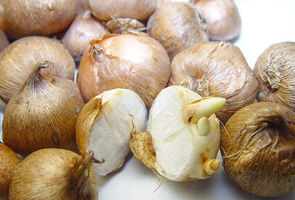 1
Las flores son un hermoso componente de la primavera en muchos lugares. Los narcisos vienen en tonos de amarillo pero también pueden ser blancos o color crema. Algunos tienen el centro anaranjado. Estas flores alegres provienen de bulbos. En general, los bulbos tienen forma de lágrima, con un extremo puntiagudo y la parte de abajo redondeada. La piel exterior es fina y de color marrón. Una cebolla es un bulbo. Por dentro tiene capas. Quizás hayas ayudado a plantar algunos bulbos en el jardín, pero ¿que pensarías si alguien te pidiera que le ayudaras a plantar cormos? Otra flor, el azafrán, proviene de un cormo. Muchos tipos de azafranes florecen en primavera. Los cormos son similares a los bulbos
.....For the complete story with questions: click here for printable
---
Weekly Reading Books
---
More Lessons


---
Science




---
More Activities, Lesson Plans, and Worksheets




Copyright © 2011 edHelper