'); } var S; S=topJS(); SLoad(S); //-->
---
Print Sigue al líder... ¡como el lobo blanco!

Quickly Print - PDF format

Quickly Print - HTML format
Your Help is Needed! Help Improve This Story and the Spanish text. Leave your corrections and comments about the Spanish text in this story.


Other Languages
English: Follow the Leader...Arctic Wolf Style!

---
Sigue al líder... ¡como el lobo blanco!
By Erin Horner
Translation by Traductor TT
---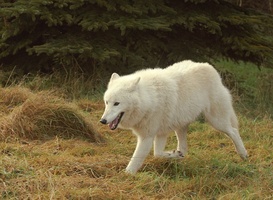 1
¿Alguna vez jugaste al juego "Sigue al líder"? ¿Sabías que los lobos blancos también juegan a una versión de este juego? En una manada de lobos, hay dos líderes: un macho alfa y una hembra alfa. Los alfas en cualquier manada de lobos son generalmente los miembros más fuertes del grupo. ¡Por lo general también son los más viejos! Cada primavera, normalmente, la hembra alfa es la única que da a luz a nuevas crías. Sin embargo, todos los miembros de la manada ayudan a cuidar al jovencito. Los otros miembros de la manada actúan como niñeros. Cuando los cachorros cumplen un mes, dejan de ser dependientes de su madre. Este es el momento
.....For the complete story with questions: click here for printable
---
Weekly Reading Books
---
More Lessons



---
Animals


---
More Activities, Lesson Plans, and Worksheets




Copyright © 2011 edHelper