'); } var S; S=topJS(); SLoad(S); //-->
---
My Red Hen


Print My Red Hen Reading Comprehension with First Grade Work

Print My Red Hen Reading Comprehension with Second Grade Work

Print My Red Hen Reading Comprehension



Reading Level

| | | |
| --- | --- | --- |
| | edHelper's suggested reading level: | grades 1 to 2 |
| | Flesch-Kincaid grade level: | 0.59 |

Vocabulary

| | | | |
| --- | --- | --- | --- |
| | challenging words: | | name, beak, eggs, lays, likes, mommy, pecking, pecks, girl, have, alone, also, back, bird, break, cannot |
| | content words: | | Sometimes Penny |

Other Languages
Spanish: Mi gallina roja


---
My Red Hen
By Cindy Grigg
---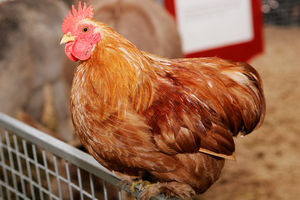 1
My name is Fred. I have a hen. A hen is a girl chicken. A chicken is a bird. My hen's name is Penny. She has feathers. All birds have feathers. Her feathers are red. She is the same color as a penny. Penny is a good pet.
2
Penny has two wings. All birds have wings. Many birds use their wings to fly. Some birds cannot fly. Penny does not fly away from me. She has a long neck. Penny has a red comb on top of her head. She has a beak. All birds have a beak or a bill.
3
Penny has two legs. She uses her feet to scratch in the dirt. She uses her beak to peck. She pecks at the dirt. She eats insects. She eats seeds. She eats grain. I give her special food, too. She likes to be fed.
Paragraphs 4 to 10:
For the complete story with questions: click here for printable
---
Weekly Reading Books
---
Feedback on My Red Hen


---
Pets Theme Unit


---
Birds


---
More Lessons



---
Animals



Copyright © 2018 edHelper