'); } var S; S=topJS(); SLoad(S); //-->
---
International Year of Sanitation: Saliha's Story


Print International Year of Sanitation: Saliha's Story Reading Comprehension




Reading Level

| | | |
| --- | --- | --- |
| | edHelper's suggested reading level: | grades 7 to 9 |
| | Flesch-Kincaid grade level: | 9.42 |

Vocabulary

| | | | |
| --- | --- | --- | --- |
| | challenging words: | | anti-Taliban, city-like, diarrhea-related, digester, uncollected, biogas, sanitary, sewage, amongst, consequently, happening, inadequate, reconstruction, milestone, civil, sewer |
| | content words: | | Bamyan Province, International Year, Soviet Union, United States, Northern Alliance, United Nations, British Medical Journal |
---
International Year of Sanitation: Saliha's Story
By Jennifer Kenny
---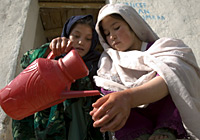 1 Caption: Girls help each other wash hands outside a latrine provided by UNICEF at their school in Afghanistan's Bamyan Province.

2 Saliha is a young girl who lives in Afghanistan. She lives in a rural community that is participating in the WASH campaign during the International Year of Sanitation. What does WASH stand for? It is an acronym for water supply, sanitation, and hygiene. All three are huge issues for the people of Afghanistan.

3 Afghanistan is a country of around 31 million people. It is located in southern Asia, and is slightly smaller than the state of Texas in size. The capital of Afghanistan is Kabul. It is a nation originally founded in 1747. In 1979 it was invaded by the Soviet Union; the Soviet Union withdrew in 1989. There were civil wars inside the country of Afghanistan; meanwhile the capital fell to the Taliban in 1996. Following the September 11 attacks in the United States, military action by the United States and its allies and the anti-Taliban Northern Alliance toppled the Taliban. After 2001, the United Nations began to focus on political reconstruction in Afghanistan. The first democratically run election for president was held in 2004.

4 Decades of conflict and severe weather conditions, such as a drought from 1999-2002, have contributed to many sanitary issues in Afghanistan. In the rural area where Saliha lives, families like hers need education on hygiene, and they need improved latrines. In areas near her cousin Halima, who lives in an urban part of Afghanistan, functioning sewage systems are in great demand.

Paragraphs 5 to 13:
For the complete story with questions: click here for printable


Extended Activities:

1. Different organizations name years for different causes. Research some. If your wish could come true, what would you call the upcoming year? Why?

2. List ten facts about a disease caused by poor sanitation.

3. Create a historical time line of five main events in Afghanistan.



---
Weekly Reading Books
---
Feedback on International Year of Sanitation: Saliha's Story


---
More Lessons



Copyright © 2018 edHelper