'); } var S; S=topJS(); SLoad(S); //-->
---
Living on a Reservation: Shawn's Story


Print Living on a Reservation: Shawn's Story Reading Comprehension




Reading Level

| | | |
| --- | --- | --- |
| | edHelper's suggested reading level: | grades 8 to 12 |
| | Flesch-Kincaid grade level: | 8.19 |

Vocabulary

| | | | |
| --- | --- | --- | --- |
| | challenging words: | | family-sized, city-like, self-sufficiency, overwhelming, substandard, leery, envision, dropout, better, inadequate, prenatal, currently, expectancy, thereafter, sewers, powwow |
| | content words: | | United States, Native Americans, South Dakota, Native American, Some Native Americans |
---
Living on a Reservation: Shawn's Story
By Jennifer Kenny
---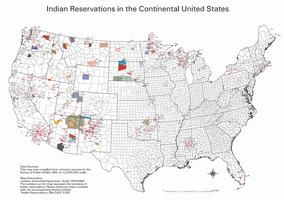 1 In the United States, there are approximately 2,500,000 Native Americans. Estimates indicate that half of them live on reservations. Shawn lives on one such reservation. People who don't know any better envision Shawn's life as an easy one. Perhaps they think of a year-round campground with amenities and all his family's needs being taken care of. Shawn believes these individuals live in a dream world. He knows better. He understands that the conditions under which he lives are forty or fifty years behind the rest of the country.

2 Shawn lives on a reservation in South Dakota. His ancestors once roamed the land searching for buffalo. Now his family lives here with around 20,000 other Native Americans. Life is not easy.

3 Even though Shawn's reservation is part of the United States, his family lives in poverty in one of the poorest areas of the country. Just under half of the families are below the federal poverty line. The U.S. government pays for many things such as food stamps and school supplies. Unfortunately, even with federal help, families and schools are typically short on funds.

Paragraphs 4 to 10:
For the complete story with questions: click here for printable


Extended Activities:

1. Research a specific charity that aids Native Americans.

2. Research a specific reservation on which Native Americans reside.

3. Find out how reservations began in the first place.

4. Create a brochure for a charity listing the needs of the Native Americans.



---
Weekly Reading Books
---
Feedback on Living on a Reservation: Shawn's Story


---
More Lessons



Copyright © 2018 edHelper