'); } var S; S=topJS(); SLoad(S); //-->
---
Print ¿Cómo se mantienen calientes las morsas?

Quickly Print - PDF format

Quickly Print - HTML format
Your Help is Needed! Help Improve This Story and the Spanish text. Leave your corrections and comments about the Spanish text in this story.


Other Languages
English: How Does a Walrus Stay Warm?

---
¿Cómo se mantienen calientes las morsas?
By Erin Horner
Translation by Traductor TT
---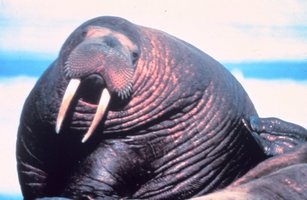 1
¿Qué usas cuando hace frío? ¿Te pones una camisa de mangas largas? ¿Y una chaqueta? Cuando tenemos frío nos ponemos capas de ropa abrigada. ¿Pero qué hacen las morsas cuando hace frío? ¿Cómo hacen para mantenerse calientes? Las morsas viven en el helado Ártico. No pueden ponerse un abrigo para mantenerse calientes pero pueden usar capas... ¡de grasa! El cuero de una morsa tiene un espesor de alrededor de una pulgada. Debajo de esta piel dura tiene una capa de grasa. Esa capa de grasa tiene entre tres y seis pulgadas de espesor. Al igual que las capas de ropa que usamos nosotros, las capas de grasa de una morsa la ayudan a mantenerse caliente. Las morsas se zambullen en la profundidad del helado mar Ártico para buscar comida. Cuando se zambullen, la sangre caliente recorre todo su cuerpo.
.....For the complete story with questions: click here for printable
---
Weekly Reading Books
---
More Lessons



---
Animals


---
More Activities, Lesson Plans, and Worksheets




Copyright © 2011 edHelper