'); } var S; S=topJS(); SLoad(S); //-->
---
An African Girl Drinks Clean, Fresh Water


Print An African Girl Drinks Clean, Fresh Water Reading Comprehension with Fourth Grade Work

Print An African Girl Drinks Clean, Fresh Water Reading Comprehension with Fifth Grade Work

Print An African Girl Drinks Clean, Fresh Water Reading Comprehension with Sixth Grade Work

Print An African Girl Drinks Clean, Fresh Water Reading Comprehension



Reading Level

| | | |
| --- | --- | --- |
| | edHelper's suggested reading level: | grades 4 to 7 |
| | Flesch-Kincaid grade level: | 6.68 |

Vocabulary

| | | | |
| --- | --- | --- | --- |
| | challenging words: | | afrobeat, apala, desert-like, dysentery, fuji, highlife, Khoto, potable, sanitation, agriculture, legacy, maintain, petroleum, dedication, spite, cholera |
| | content words: | | Ten-year-old Teesha, In Uke, Chief Kalledi, In Nigeria, West Africa, Niger River |

Other Languages
French: Une fille africaine boit de l'eau fraîche et propre
Spanish: Una chica africana bebe agua limpia y fresca
Italian: Una ragazza africana beve acqua fresca e pulita
German: Ein afrikanisches Mädchen trinkt sauberes, frisches Wasser


---
An African Girl Drinks Clean, Fresh Water
By Colleen Messina
---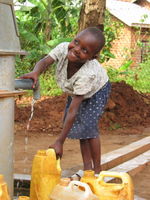 1 "It's good!" cried Teesha with a smile. The clean, fresh water sparkled in her cup. It tasted so sweet and cold. She had never had a cup of water like it before. Now she understood why her mother liked an old African saying that stressed the importance of water. It went like this: "Khoto, Pula, Nala!" It means "Peace, Rain, Prosperity!"

2 Ten-year-old Teesha used to collect water from the murky stream in the ditch near her home. The brown water had a funny smell, but her family had no choice. In Uke, Nigeria, there was no clear, running water. Even though her name means "alive and well" in Swahili, Teesha often felt sick because of the contaminated water.

3 Many women and children in Africa walk for miles each day over rough ground to collect water in dirty pails. They use water from streams, rivers, and lakes for cooking, taking baths, and washing clothes. Contaminated water causes diseases, such as typhus, cholera, dysentery, and malaria. Teesha's six-year-old brother had died last year from cholera, and her mother cried for months. She cried again with relief when she heard that her village was getting a well. At last, their water would be safe.

Paragraphs 4 to 8:
For the complete story with questions: click here for printable


Extended Activities:

1. Track your use of water for three days by writing down each time you use or drink water. Try to estimate how much water you use for different activities. Were you surprised by how much water you used? Write down at least two ways that you could conserve water in daily activities.

2. Africa has many wild animals. Draw a picture and write a description of your favorite animal from Africa. If you are doing this activity in a group, pretend that you are in a zoo. Each "animal" can take a turn telling the others a little bit about himself or herself. Be sure to add sound effects to your presentations!

3. Pretend that you are putting together a band in Africa. Select one type of music mentioned in the article and research what type of instruments would be used to play that kind of music. Decide which instrument you would like to play and describe why you would like that instrument.



---
Weekly Reading Books
---
Feedback on An African Girl Drinks Clean, Fresh Water


---
More Lessons



Copyright © 2018 edHelper