'); } var S; S=topJS(); SLoad(S); //-->
---
Magic!


Print Magic! Reading Comprehension with First Grade Work

Print Magic! Reading Comprehension with Second Grade Work

Print Magic! Reading Comprehension with Third Grade Work

Print Magic! Reading Comprehension



Reading Level

| | | |
| --- | --- | --- |
| | edHelper's suggested reading level: | grades 1 to 3 |
| | Flesch-Kincaid grade level: | 0.95 |

Vocabulary

| | | | |
| --- | --- | --- | --- |
| | challenging words: | | across, quickly, Brrrr, indigo, lights, path, beautiful, book, breath, child, color, cook, dark, deep, different, door |
| | content words: | | Sometimes Layla, Christmas Stories |
---
Magic!
By Kathleen W. Redman
---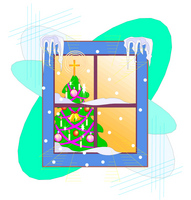 1
Layla ran quickly across the path. It was cold. Snow was making the ground white. Layla needed to get home. It would be warm there. There would be an orange and yellow fire. Her mother would have good brown soup for her. Her father would read a story.
2
Oh! What was that?
3
Layla stopped in her tracks. She saw something in the window of the little house. She ran a little closer to the house. It was very quiet. She tiptoed a little bit closer.
4
Oh, my! It was so beautiful! There were so many colors. It was green and red and blue and purple and pink and yellow and . . . There were so many colors. Sometimes Layla could see all the colors. Sometimes she could see just one color. Sometimes there were no colors at all. It was just dark in the house. What could it be?
Paragraphs 5 to 15:
For the complete story with questions: click here for printable
---
Weekly Reading Books
---
Feedback on Magic!


---
Holidays


---
Christmas


---
More Lessons



Copyright © 2018 edHelper