'); } var S; S=topJS(); SLoad(S); //-->
---
Chickens


Print Chickens Reading Comprehension with Second Grade Work

Print Chickens Reading Comprehension with Third Grade Work

Print Chickens Reading Comprehension



Reading Level

| | | |
| --- | --- | --- |
| | edHelper's suggested reading level: | grades 2 to 3 |
| | Flesch-Kincaid grade level: | 2.22 |

Vocabulary

| | | | |
| --- | --- | --- | --- |
| | challenging words: | | cock, crowing, gizzard, hatches, chicken, leftover, beak, bird, rocks, organ, eggs, flock, during, earth, type, change |

Other Languages
Spanish: Las Gallinas


---
Chickens
By Cindy Grigg
---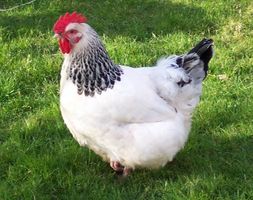 1
A chicken is a bird. Birds are the only type of animal that has feathers. There are more chickens on earth than people! That's because people raise chickens for their eggs and for their meat.
2
Most farms have some chickens. People like to eat chicken eggs. All birds, including chickens, lay eggs. Female birds lay eggs. Chickens are an important food source for people.
3
A male chicken is called a rooster or a cock. A hen is a female chicken. A chicken has two legs. A chicken has two wings. All birds have two wings, but not all birds can fly.
Paragraphs 4 to 7:
For the complete story with questions: click here for printable
---
Weekly Reading Books
---
Feedback on Chickens


---
Birds


---
Farm


---
More Lessons



---
Animals



Copyright © 2018 edHelper