'); } var S; S=topJS(); SLoad(S); //-->
---
Laura Helps the Street Children of Ecuador


Print Laura Helps the Street Children of Ecuador Reading Comprehension with First Grade Work

Print Laura Helps the Street Children of Ecuador Reading Comprehension with Second Grade Work

Print Laura Helps the Street Children of Ecuador Reading Comprehension with Third Grade Work

Print Laura Helps the Street Children of Ecuador Reading Comprehension



Reading Level

| | | |
| --- | --- | --- |
| | edHelper's suggested reading level: | grades 1 to 3 |
| | Flesch-Kincaid grade level: | 4.11 |

Vocabulary

| | | | |
| --- | --- | --- | --- |
| | challenging words: | | might, jobs, lived, part-time, underground, working, person, able, also, building, capital, change, cocoa, coffee, country, difference |
| | content words: | | South America, Pacific Ocean, Andes Mountains, Galapagos Islands |
---
Laura Helps the Street Children of Ecuador
By Colleen Messina
---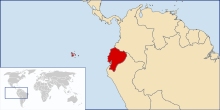 1 You might not think that one person can change things. One young woman named Laura found out that one person could help. She decided to help the street children of Ecuador.

2 Laura went to Quito, Ecuador. Quito is the capital of the country. She helped with a project called Sinsoluka. Sinsoluka's goal was to help the street children.

3 The street children lived in underground tunnels. They lived in parks. They lived in old buildings. Some of them had part-time jobs. Some of them began working when they were six years old. They shined shoes. They recycled garbage. Their families did not help them. They had no hope. Some of them tried drugs.

Paragraphs 4 to 8:
For the complete story with questions: click here for printable


Extended Activities:

1. Think about your favorite treat. Try giving it up for one week. Write a paragraph about how it felt to give up your favorite treat.

2. Pretend that you are a giant tortoise on the Galapagos Islands. Write a short story about one day in your life. Draw a picture of a tortoise on the Galapagos Islands.



---
Weekly Reading Books
---
Feedback on Laura Helps the Street Children of Ecuador


---
More Lessons



Copyright © 2018 edHelper