'); } var S; S=topJS(); SLoad(S); //-->
---
What Is a Foreclosure?


Print What Is a Foreclosure? Reading Comprehension with Fourth Grade Work

Print What Is a Foreclosure? Reading Comprehension with Fifth Grade Work

Print What Is a Foreclosure? Reading Comprehension with Sixth Grade Work

Print What Is a Foreclosure? Reading Comprehension



Reading Level

| | | |
| --- | --- | --- |
| | edHelper's suggested reading level: | grades 4 to 7 |
| | Flesch-Kincaid grade level: | 5.81 |

Vocabulary

| | | | |
| --- | --- | --- | --- |
| | challenging words: | | affecting, heart-wrenching, homeowner, salary, factor, heartbroken, filings, statistics, medical, insurance, stress, leads, nightmare, especially, easily, divorce |
| | content words: | | Year-End U. S., Market Report, Questions Every First-Time Homebuyer Should Ask |
---
What Is a Foreclosure?
By Colleen Messina
---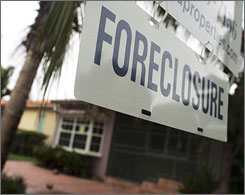 1 Buying a house is part of the American dream. There is nothing quite like "home sweet home," especially when you own the house! However, one event can steal a homeowner's dream and turn it into a nightmare. Foreclosure is when a homeowner can't afford to make the payments on his or her house anymore. The bank or lender that he or she owes money to then gets the house. The family has to move out.

2 You may have seen the word "foreclosure" in the headlines or heard the word on the news. The stories about foreclosure are not usually happy ones. People go through foreclosure for different reasons. Sometimes they have lost their jobs. If people have medical problems and can't work, they can have a lot of financial stress, too. Other times foreclosure occurs because of a divorce. In these situations, the people might not be able to pay their mortgage. A mortgage is the name of the loan that people get so that they can buy a house. Not paying the mortgage leads to foreclosure if it goes on long enough.

3 Foreclosure statistics are troubling, but personal stories about foreclosures are far more heart-wrenching than any numbers in the newspaper. Here is one story about a family that has faced the situation with courage. This lady and her family decided to move to Florida in order to be closer to her mother-in-law. She thought that their family could survive on one salary if necessary. It seemed like a safe move in terms of the family's money situation. It looked as though they would be able to cover most of their bills easily.

Paragraphs 4 to 10:
For the complete story with questions: click here for printable


Extended Activities:

1. Part of every loan is paying interest. Interest is what it costs for a person to borrow money. Interest rates change all the time. Look up the definition of interest as it relates to a loan and write up a good explanation of an interest rate. You also earn interest on money that you keep in the bank. If you have a savings account, find out what the interest rate is on your account.

2. Moving because of foreclosure can be hard on children who might not understand why their family has to move. Draw a picture of a box of items you would give to a child ages five to seven that would help the child feel better about moving. Put at least four items in the box and write a short description of why each item would help a young child adjust to an unexpected move.



---
Weekly Reading Books
---
Feedback on What Is a Foreclosure?


---
More Lessons



Copyright © 2018 edHelper