'); } var S; S=topJS(); SLoad(S); //-->
---
What Does a Globe Show Us?
Reading Level

| | | |
| --- | --- | --- |
| | edHelper's suggested reading level: | grades 2 to 3 |
| | Flesch-Kincaid grade level: | 3.2 |

Vocabulary

| | | | |
| --- | --- | --- | --- |
| | challenging words: | | model, globe, latitude, mapmakers, meridian, prime, sphere, tilt, traveled, axis, lines, equator, easily, east, west, opposite |
| | content words: | | North Pole, South Pole, Northern Hemisphere, Southern Hemisphere, Western Hemisphere, Eastern Hemisphere, United States |
---
Print What Does a Globe Show Us?

Quickly Print

Proofreading Activity


---
What Does a Globe Show Us?
By Cindy Grigg
---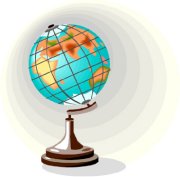 1
A globe is a model of the Earth. The Earth is so large that we cannot see all of it at once. A model of the Earth helps us to see what the whole Earth looks like. A globe is a better model of the Earth than a flat map. That is because the Earth is a sphere, like a ball. So a sphere is more like the Earth than a flat piece of paper.
2
Look at a globe. You can make it spin around and around. Why? Because the Earth itself spins around and around. Why don't we get dizzy? Because we're used to the Earth's motion. It has been spinning around since it first formed. Ever since you were born, you've been riding on a spinning Earth in space.
3
Earth spins or rotates on its axis. You can see the axis on a globe. It is the metal piece or pole that runs through the globe from top to bottom. On the Earth, the axis is just an imaginary line. It is the line around which the Earth rotates or spins. The top of the axis is the North Pole. The bottom of the axis is the South Pole.
4
The globe is tilted to one side. Why? Because the Earth itself is tilted. This tilt is what gives us the seasons of spring, summer, fall, and winter. When the North Pole is turned toward the sun, the northern part of Earth has summer. At the same time, the southern part of Earth has winter.
Paragraphs 5 to 12:
For the complete story with questions: click here for printable
---
Weekly Reading Books
---
Feedback on What Does a Globe Show Us?


---
Geography



Copyright © 2018 edHelper