'); } var S; S=topJS(); SLoad(S); //-->
---
Beware of the Coastal Invaders!


Print Beware of the Coastal Invaders! Reading Comprehension with Fifth Grade Work

Print Beware of the Coastal Invaders! Reading Comprehension with Sixth Grade Work

Print Beware of the Coastal Invaders! Reading Comprehension




Reading Level

| | | |
| --- | --- | --- |
| | edHelper's suggested reading level: | grades 5 to 8 |
| | Flesch-Kincaid grade level: | 7.53 |

Vocabulary

| | | | |
| --- | --- | --- | --- |
| | challenging words: | | innocuous, milky-blue, pulsing, original, fluke, get-away, billion, arrival, anchovy, parachute, affected, solution, outer, Yikes, commercial, invaders |
| | content words: | | Christian Fischer, Havel River, Nature Conservancy, United States, San Francisco Bay, San Joaquin Rivers, San Francisco, California Bureau, South America, Black Sea |
---
Beware of the Coastal Invaders!
By Colleen Messina
---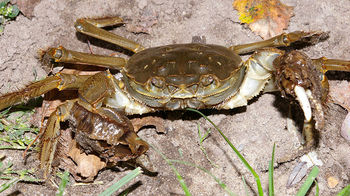 1 Caption: picture taken by Christian Fischer at the Havel River in Germany, October 2007.

2 Yikes! "Aliens" are invading coastlines around the world! One species has dark, hairy claws. Another invader might glow an eerie green color if it is disturbed during the night. What are these strange creatures, and where do they come from?

3 Fortunately, these "aliens" are not from outer space. The creature with hairy claws is a brown Chinese mitten crab. The eerie, glowing invader is a comb jellyfish. Why are these creatures called invaders? They are showing up on coastlines far from their native habitats. Their presence is causing many problems in their new homes.

Paragraphs 4 to 9:
For the complete story with questions: click here for printable


Extended Activities:

1. Design a "WANTED: COASTAL INVADER" poster for either the mitten crab or the comb jellyfish. Include a reward for reporting sightings of these invaders and your version of a picture of these "criminals."

2. Think about the question of whether tourists should be informed of "invaders" when they visit a new place. Imagine that you are a travel agent discussing a trip with a customer. If it's likely scenario that your customer would encounter a coastal invader, how would you tell him or her about the creature?



---
Weekly Reading Books
---
Feedback on Beware of the Coastal Invaders!


---
More Lessons



Copyright © 2018 edHelper