'); } var S; S=topJS(); SLoad(S); //-->
---
Take Me for a Jump!


Print Take Me for a Jump! Reading Comprehension with First Grade Work

Print Take Me for a Jump! Reading Comprehension with Second Grade Work

Print Take Me for a Jump! Reading Comprehension with Third Grade Work

Print Take Me for a Jump! Reading Comprehension



Reading Level

| | | |
| --- | --- | --- |
| | edHelper's suggested reading level: | grades 1 to 3 |
| | Flesch-Kincaid grade level: | 1.39 |

Vocabulary

| | | | |
| --- | --- | --- | --- |
| | challenging words: | | arena, brushes, chestnut, ears, friend, girth, gorgeous, halter, leads, likes, longest, outdoor, pats, picks, poles, someday |
| | content words: | | My Girl, Once My Girl, Olympic Games |
---
Take Me for a Jump!
By Colleen Messina
---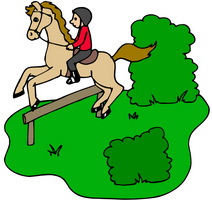 1
I am in my pen with my best friend, Ruthie. Ruthie is gorgeous. She has a tan coat and the longest ears I have ever seen. I heard the people say that she is a donkey. Maybe that is a special kind of horse? Do you know? Anyway, we munch hay together. She is my best friend besides my girl, Sue. Oh, maybe you are wondering what my name is? My name is Cisco. I am a horse.
2
Here comes Sue now. She pats my nose. She puts a halter on my head. She leads me to the barn. Then she takes out her basket of brushes and begins to go over my shiny chestnut coat. She uses a softer brush on my face. She likes to make the white blaze on my forehead look clean. It feels so good when she combs my mane. Sometimes, she even braids it. I love when she picks out my feet. My hooves are full of mud. It has been raining a lot lately!
3
Sue puts a pad on my back. Then, she puts my saddle on. Oh, good! We are going for a ride. She tightens my girth. This is the band that goes around my middle. Next, she takes the halter off and puts my bridle on. I am ready!
Paragraphs 4 to 6:
For the complete story with questions: click here for printable
---
Weekly Reading Books
---
Feedback on Take Me for a Jump!


---
Sports


---
More Lessons



Copyright © 2018 edHelper