'); } var S; S=topJS(); SLoad(S); //-->
---
Saliha's Story: The Year of Sanitation


Print Saliha's Story: The Year of Sanitation Reading Comprehension with Fifth Grade Work

Print Saliha's Story: The Year of Sanitation Reading Comprehension with Sixth Grade Work

Print Saliha's Story: The Year of Sanitation Reading Comprehension



Reading Level

| | | |
| --- | --- | --- |
| | edHelper's suggested reading level: | grades 5 to 6 |
| | Flesch-Kincaid grade level: | 7.19 |

Vocabulary

| | | | |
| --- | --- | --- | --- |
| | challenging words: | | handpump, sewer, happening, teaching, untreated, latrine, provided, amongst, personally, founded, billion, unhealthy, originally, further, diarrhea, irrigation |
| | content words: | | International Year, Soviet Union, Sometimes Saliha |
---
Saliha's Story: The Year of Sanitation
By Jennifer Kenny
---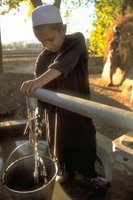 1 Caption: A young boy collects safe drinking water from a handpump provided by UNICEF.

2 Saliha is a young girl who lives in Afghanistan. She lives in a rural village. In 2008, her village was chosen to be part of the WASH program for the International Year of Sanitation. What does WASH stand for? It stands for water supply, sanitation, and hygiene. All three are huge issues for the people of Afghanistan.

3 Around 33 million people live in Afghanistan, a country in southern Asia. Afghanistan was originally established in 1747. In 1979, it was invaded by the Soviet Union. Fighting as well as a horrible drought has added to the sanitation problems in Afghanistan. In the rural village where Saliha lives, families like hers need improved latrines, or places to go to the bathroom, and further teaching on cleanliness. Her cousin, Halima, lives in a city in Afghanistan. There are sanitation problems in the city, too. There the problem is the need for working sewer systems for people's wastes.

4 Children such as Saliha and Halima can get very sick from the unhealthy places where they go to the bathroom each day. In fact, 25% of those under five years old get such diseases each year. Many get so sick that they die because of illnesses from sanitation, dirty drinking water, and lack of cleanliness amongst residents.

Paragraphs 5 to 11:
For the complete story with questions: click here for printable


Extended Activities:

1. Different organizations name years for different causes. Research some. If your wish could come true, what would you call the upcoming year? Why?

2. List ten facts about a disease caused by poor sanitation.

3. Create an historical time line of three main events in Afghanistan.

4. Create a poster for the International Year of Sanitation.



---
Weekly Reading Books
---
Feedback on Saliha's Story: The Year of Sanitation


---
More Lessons



Copyright © 2018 edHelper