'); } var S; S=topJS(); SLoad(S); //-->
---
Ready, Aim, Shoot that Arrow!


Print Ready, Aim, Shoot that Arrow! Reading Comprehension with Second Grade Work

Print Ready, Aim, Shoot that Arrow! Reading Comprehension with Third Grade Work

Print Ready, Aim, Shoot that Arrow! Reading Comprehension



Reading Level

| | | |
| --- | --- | --- |
| | edHelper's suggested reading level: | grades 2 to 3 |
| | Flesch-Kincaid grade level: | 3.61 |

Vocabulary

| | | | |
| --- | --- | --- | --- |
| | challenging words: | | people, after-life, archer, Bulls-eye, chinese, cotta, emperor, flint, greek, olympic, pharaohs, pits, tomb, bows, brothers, history |
| | content words: | | Robin Hood, United States, Civil War, National Archery Association |
---
Ready, Aim, Shoot that Arrow!
By Colleen Messina
---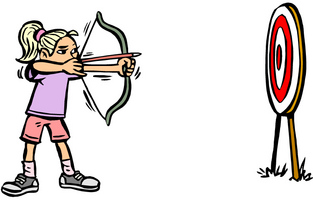 1
People have shot arrows for a long time. Arrows were used for hunting. They were also used in war. Archers were in many stories. Greek heroes carried bows. Robin Hood was a great shot, too! These heroes knew how to shoot well.
2
Some people found old arrowheads in Africa. They were thousands of years old. Some people think that the bow and arrow were invented there. People found old bows in Denmark.
3
The Egyptians liked bows and arrows. They used them in war. Their archers rode on chariots. They used arrows made from reeds. They made arrowheads from flint. Pharaohs liked to shoot. Pictures on tomb walls showed them shooting bows and arrows.
Paragraphs 4 to 7:
For the complete story with questions: click here for printable
---
Weekly Reading Books
---
Feedback on Ready, Aim, Shoot that Arrow!


---
More Lessons



Copyright © 2017 edHelper