'); } var S; S=topJS(); SLoad(S); //-->
---
Ping Pong Goes the Ball!


Print Ping Pong Goes the Ball! Reading Comprehension with First Grade Work

Print Ping Pong Goes the Ball! Reading Comprehension with Second Grade Work

Print Ping Pong Goes the Ball! Reading Comprehension with Third Grade Work

Print Ping Pong Goes the Ball! Reading Comprehension



Reading Level

| | | |
| --- | --- | --- |
| | edHelper's suggested reading level: | grades 1 to 3 |
| | Flesch-Kincaid grade level: | 0.9 |

Vocabulary

| | | | |
| --- | --- | --- | --- |
| | challenging words: | | game, balls, cigar, lined, misses, sounded, also, back, ball, cork, forth, matter, name, need, orange, other |
| | content words: | | Ping Pong, Olympic Games |

Other Languages
Spanish: íPing pong hace la pelota!


---
Ping Pong Goes the Ball!
By Colleen Messina
---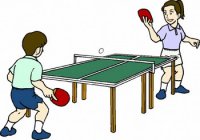 1
Ping Pong is a fun game. It was named for a sound. Someone thought the ball sounded like ping and pong as it went back and forth!
2
Ping pong is also called table tennis. Two or four people play it. They use paddles. They hit a small ball. They hit it over a net. The net is on a table. The table is small. It is nine feet long. It is five feet wide. The ball moves fast. Players must be quick to win.
3
One player serves the ball. He or she hits it. It goes over a net. The other player hits the ball back. If that player misses, the first player gets a point. The first person to get eleven points wins the game. He or she must win by at least two points.
Paragraphs 4 to 6:
For the complete story with questions: click here for printable
---
Weekly Reading Books
---
Feedback on Ping Pong Goes the Ball!


---
Sports


---
More Lessons



Copyright © 2018 edHelper