'); } var S; S=topJS(); SLoad(S); //-->
---
The Tiniest Winter Wonderland


Print The Tiniest Winter Wonderland Reading Comprehension with Second Grade Work

Print The Tiniest Winter Wonderland Reading Comprehension with Third Grade Work

Print The Tiniest Winter Wonderland Reading Comprehension with Fourth Grade Work

Print The Tiniest Winter Wonderland Reading Comprehension




A Short Reader

Reading Level

| | | |
| --- | --- | --- |
| | edHelper's suggested reading level: | grades 2 to 4 |
| | Flesch-Kincaid grade level: | 3.36 |

Vocabulary

| | | | |
| --- | --- | --- | --- |
| | challenging words: | | ceramic, elves, glycerin, magical, porcelain, sawdust, sphere, wonderland, workshop, christmas, based, swirl, works, dome, glitter, lights |
| | content words: | | Paris Exposition, Eiffel Tower |

Other Languages
Spanish: El país de las maravillas de invierno más pequeño


---
The Tiniest Winter Wonderland
By Colleen Messina
---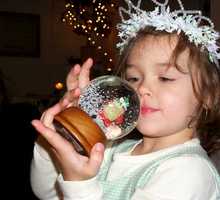 1
Winter is magical. Christmas lights sparkle in dazzling colors across the snow. Window decorations have smiling elves in them. Santa's workshop is on display. One winter wonderland is very small. A snow globe might have the tiniest winter wonderland of all!
2
A snow globe is a clear sphere. It is often made of glass. It is full of water. It has a small scene in it. The globe has a surprise. If a person shakes it, snow falls! Tiny white particles swirl inside the sphere. It looks like a miniature blizzard.
3
The first snow globes may have been made in France. The idea may have been based on glass paperweights. In 1889, a fantastic snow globe was on display. It was at the Paris Exposition. The snow globe had the Eiffel Tower in it. People liked this globe. People took these globes home. They liked to remember their trip.
Paragraphs 4 to 5:
For the complete story with questions: click here for printable
---
Weekly Reading Books
---
Feedback on The Tiniest Winter Wonderland


---
Winter Theme Unit


---
More Lessons



Copyright © 2018 edHelper