'); } var S; S=topJS(); SLoad(S); //-->
---
There's a Cow on the Corner!


Print There's a Cow on the Corner! Reading Comprehension with Second Grade Work

Print There's a Cow on the Corner! Reading Comprehension with Third Grade Work

Print There's a Cow on the Corner! Reading Comprehension with Fourth Grade Work

Print There's a Cow on the Corner! Reading Comprehension




A Very Quick Reader

Reading Level

| | | |
| --- | --- | --- |
| | edHelper's suggested reading level: | grades 2 to 4 |
| | Flesch-Kincaid grade level: | 2.57 |

Vocabulary

| | | | |
| --- | --- | --- | --- |
| | challenging words: | | feline, mosey, pooch, revered, zebu, religion, cows, sacred, path, million, also, through, cross, seen, tonight, people |
| | content words: | | In Delhi |
---
There's a Cow on the Corner!
By Erin Horner
---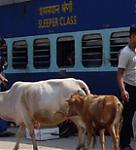 1
If you went for a walk tonight in your neighborhood, what would you see? You might see a stray dog. A lonely pooch might cross your path and mosey on down the street. Or maybe you'd see a cat. Feline friends sometimes like to roam the block looking for food or fun. How about a cow? Are you likely to see a cow? If you live in India you are. There are lots of cows that roam the streets in India. This is because cows are very special to Indians. Many people who live in India are Hindu. Hindu is a type of religion. Hindus believe that cows are sacred. The cows of India are called zebu. They roam freely in many villages. They can even be seen wandering through the big cities. In Delhi there are more than 13 million people. There are also more than 40,
.....For the complete story with questions: click here for printable
---
Weekly Reading Books
---
Feedback on There's a Cow on the Corner!


---
More Lessons



Copyright © 2018 edHelper