'); } var S; S=topJS(); SLoad(S); //-->
---
Attitude - Your Tone Says It All


Print Attitude - Your Tone Says It All Reading Comprehension with Second Grade Work

Print Attitude - Your Tone Says It All Reading Comprehension with Third Grade Work

Print Attitude - Your Tone Says It All Reading Comprehension with Fourth Grade Work

Print Attitude - Your Tone Says It All Reading Comprehension




A Short Reader

Reading Level

| | | |
| --- | --- | --- |
| | edHelper's suggested reading level: | high interest, readability grades 2 to 4 |
| | Flesch-Kincaid grade level: | 2.71 |

Vocabulary

| | | | |
| --- | --- | --- | --- |
| | challenging words: | | fiddlesticks, kinder, lighten, nonverbal, squeegee, stomp, downhill, tips, ever, seen, person, adult, kindly, have, tone, attitude |
| | content words: | | Golden Rule |
---
Attitude - Your Tone Says It All
By Mary Perrin
---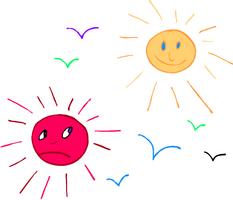 1
Have you ever seen a person with a bad attitude? A person with a bad attitude does not speak very nicely to others. The way your voice sounds when you talk is called your tone of voice. Your tone of voice tells others about your attitude. Your attitude is great when you are happy. You smile. You speak kindly to others. You hold your head up. You make eye contact. You do not cause a fuss. On the flip side, you might a have bad attitude when you are upset. You frown. You whine. You hang your head and stomp your feet. You cause a fuss because you are not happy with the situation.
2
You are in control of how you act and sound. Did you know that you can say one sentence in two very different ways? Your tone of voice tells others if you have a good attitude or a bad attitude. Say this sentence: "I do not want to wear that, Mom." First say it with a smile on your face and a slight giggle in your voice. Then say the same sentence with a grumble in your voice. Also, put a frown on your face and stomp your foot. The tone of what you say will sound very different. Can you tell the difference? You may hear your parents say, "Please don't take that tone with me." What they are really saying is that you need to change how you are speaking. They want you to speak in a kinder way.
3
Your attitude can change quickly if you let it. Try these three tips to help sustain a good attitude.
Paragraphs 4 to 6:
For the complete story with questions: click here for printable
---
Weekly Reading Books
---
Feedback on Attitude - Your Tone Says It All


---
More Lessons



Copyright © 2018 edHelper